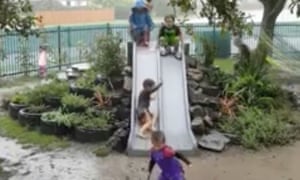 A video clip of New Zealand pre-school children playing in a rain storm has been viewed more than 20m times on social media, with the director of the centre saying the clip had prompted people to remember the freedom of their own "lost childhoods".
This week Pukekos Educare in the small North Island town of Thames posted a 33-second clip of children at the centre swooshing down a slide into a huge puddle of mud in the middle of a downpour.
The giddy, joyous laughter of the children can be clearly heard, as they shriek and giggle whilst plunging into the mud, sometimes head-first.